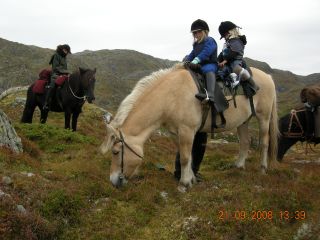 JUNIPER
Juniper is a 13 year old Fjording. He is calm and likes to be cuddled;
he is very familiar on the mountain roads,
is easy to ride and prefers to be together with the other horses.
Juniper has been with us for more than 10 years.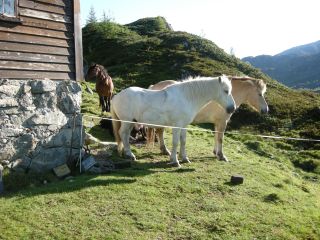 TINTO
Tinto is a white Icelandic gelding of 10 years+. His origin is somewhat unknown,
but he came to us 10 years ago. Of all the horses Tinto is the calmest one,
but in order for you to make him do what you want, you need to be very decisive
and show him who is in charge. He is very steady in the mountain and if you do not rush him,
he will have his own speed. He understands what you want, but it's not certain that he will follow your wish.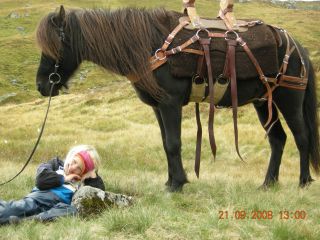 GARPUR
Garpur is a 9 years old black Icelandic. He came to us from Etne. Garpur likes very much to be cuddled. He is also the leader in the herd and likes very much to gallop. Garpur is a horse you will really be fond of.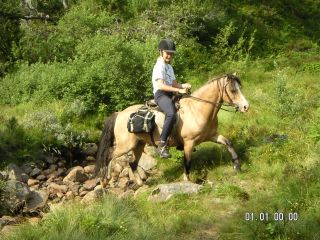 PINOCCHIO
Pinocchio is the smallest of them all, a charming but very determined gentleman. He is of the breed Welsh, 12 years old and only one meter 18 cm tall. Pinocchio is very easy to ride in the mountain; he walks steadily at his own pace. He is a barefoot horse and has never ever had shoes. If you know how to ride, he is easy to get up to speed and has no problems following the other horses.